Over the last four months, I've had the chance to play with most of the new gear in the Orvis PRO collection. From their waders to their boots, I've been thoroughly impressed.
---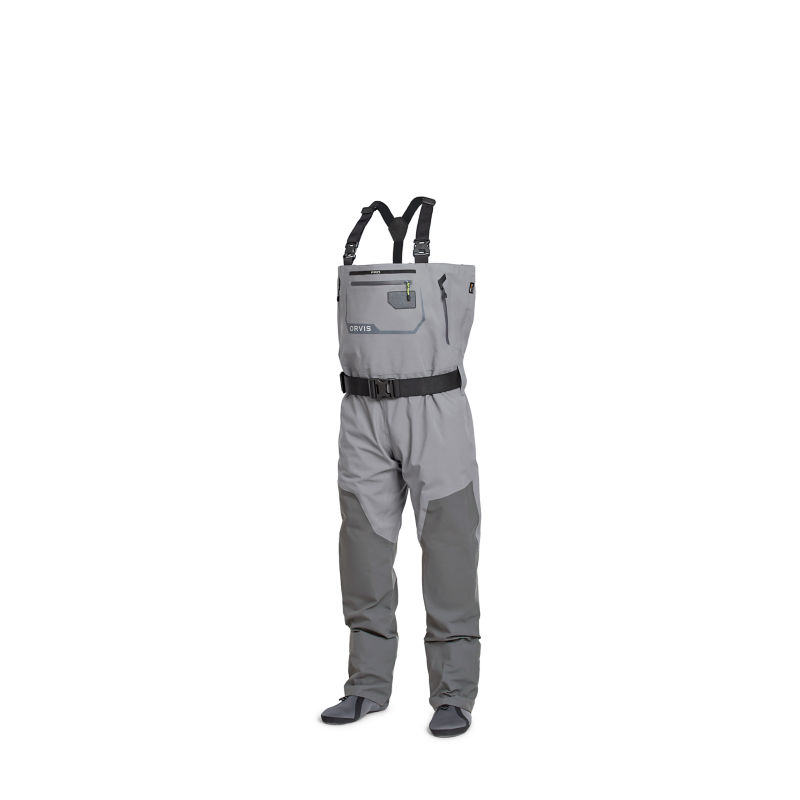 Orvis PRO Waders are some of the best on the market | Each purchase supports SDO
---
Orvis sent along their PRO Insulated Hoody, PRO Wading Jacket, and PRO Underwader pants, as well. I've been using these all winter, and wanted to really put them through their paces before offering a review. To me, these are the pieces of gear most valuable to an angler. Waders and boots are built well enough to last by most companies, and come with (usually) great warranties. But the jackets, pants, and shirts that I use to layer during winter in the Rockies have to last just as long as my waders. If I get cold or wet, it makes for a miserable day on the water.
So, to really see if the PRO collection has what it takes to keep me warm and dry, I ditched my usual cold-weather fishing gear in favor of the stuff Orvis sent. My usual inch-thick Fortress Hybrid Hoodie got relegated to hunting-only duty in favor of the PRO Insulated Hoody. My go-to waterproof shell, the Sitka Stormfront Jacket, also saw little use on the water in favor of the PRO Wading Jacket.
And last, but not least, the time-tested combination of merino wool long johns beneath sweats was swapped out for the PRO Underwader pants. Making this many changes to a layering system I know works well was a big leap of faith.
But it's a leap that definitely paid off.
PRO Insulated Hoody
A mid-layer jacket should be light enough that you don't sweat to death while wearing it, but heavy enough to lock in body heat and keep you warm. It gets bonus points for waterproofing or water-resistance. And – I can't stress this enough – adequate pocket room.
The PRO Insulated Hoody checks all those boxes. It's incredibly light, has plenty of pockets, and has kept me warm in temps down to 0. It is water and wind-resistant – I've worn it without an outer shell in a few rain and snow storms, and the Hoody hasn't let me down yet. Orvis packed this thing with PrimaLoft Gold insulation, and built in plenty of vents for temperature control.
Plus, the PRO Insulated Hoody looks good enough that you could get away with wearing it in non-fishing settings. Throughout the winter, it's become the jacket I reach for first when leaving the house. I never thought I'd find a PrimaLoft-based jacket that performed as well as my Fortress Hybrid Hoodie, or even my Browning Hell's Canyon Jacket, but the PRO Insulated Hoody works admirably.
PRO Wading Jacket
Outer shells are tough to get right. You have to make something that's roomy enough to accommodate layers beneath, but not so big that cold air gets trapped between the shell and other layers. Then, there's the business of water-and-wind-proofing the thing – including any outward-facing pockets.
That's why I've clung so dearly to my Sitka Stormfront Jacket. But after a winter of wearing the PRO Wading Jacket, I have to give my nod to Orvis's much more reasonably priced offering.
While I'm not fishing in a wet winter like my friends in the Pacific Northwest, winter in the Rockies is bone-chillingly cold. It's often made worse by consistent wind. The PRO Wading Jacket does an excellent job at cutting windchill and capturing warmth, without cooking you inside an oven.
From blizzards to rain, the PRO Wading Jacket has stepped up to every challenge I've asked of it. While the technical specs are impressive – 3-layer proprietary woven fabric for the shell, fully-taped seams, 20k waterproofing and a 15 breathability rating – there's one feature that stands out the strongest.
Orvis dubs this feature the "Dolphin Skin cuff system." Essentially, it's a band of waterproof rubber right at your wrist that forms a waterproof seal when you put on the jacket. Then when you reach to land or release a fish, you don't soak your entire arm in frigid river water. I've tested the limits of the Dolphin Skin cuffs, and haven't yet found a way to soak my sleeves. This feature alone is worth buying the jacket for.
PRO Underwader Pants
My go-to clothing option beneath waders has been merino wool and sweats. It's simple, warm, and most importantly, cheap.
The PRO Underwader pants aren't as cheap as my option, but they might be even better. They're comfortable enough that I've found myself wearing them probably more often than I should – especially in non-fishing settings. Drew Nisbet, the Community Leader for Orvis, and I both remarked in a recent conversation that we need about 5 more pairs of these pants, so we can live in them throughout the rest of the winter.
These are surprisingly durable, and I love the side-vents on the legs. The fleece lining is the perfect thickness for warmth, and the "stirrups" that prevent the legs from riding up when you're putting on waders is a great little feature.
Wrapping Up
The Orvis PRO collection is as good as you'd expect – and better in a lot of areas. I'm really pleased with how well everything has performed in one of the tougher winters I've had. The weather hasn't been kind, but the Orvis PRO collection has stepped up to the plate and performed admirably. If you're in the market for any of this style of gear, I'd highly recommend taking a look at what Orvis has to offer.
---
Spencer Durrant is a fly fishing writer from Utah. He's currently the News Editor at MidCurrent, and his writing has been published in multiple national magazines over the past decade. Connect with him on Twitter/Instagram, @Spencer_Durrant.